We, Shima Trading Company, have started our steps forward for our next 100 years, in anticipation of the future happiness, with our company DNA nurtured through our history of the first 100 years.
Since our incorporation in 1904, we have been kindly appreciated by our customers as we have provided products from all over the world. To meet the needs of our customers that are changing with times, we have set the theme to build our company for the next 100 years, "Find, Design & Create", under our company mission statement, "Creation and Innovation".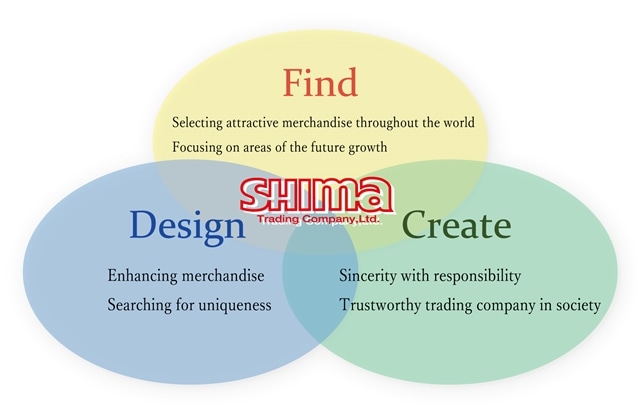 We will take the following actions to make "Find, Design & Create" happen.
| | |
| --- | --- |
| "Marketing" | Create the future from our customers' point of view |
| "Management" | Innovate "Human asset, Products, Organization" to aim effectiveness and efficiency |
| "Human Resources" | Bring out latent abilities and maximize potential |
Providing fields for employees to grow through business activities, we believe that we will make our employees and their families "happy" and help extend "happiness" throughout our society.
We will continue delivering merchandise "tangible goods", but also hearts "happiness" to the world for the next 100 years.
Please anticipate, Shima Trading Company for the next 100 years !
President and CEO
Kazuki Takahashi