Our Approach to the Environmental Issues
Global warming and other environmental problems are threatening the lives of mankind globally. SHIMA fulfils its social responsibility by promoting conservation activities to protect the irreplaceable global environment.
The Relationshp between Our Business and Environmental Issues
Around us, there are many products that enrich people's daily lives such as PC, motorcar, housing, TV, washing machine, etc. These products inevitably use some chemicals. As a trading house specializing in chemicals, we promote conservation activities that will minimize the negative impact to our environment. These include the proper management of chemicals and selecting environment-friendly products for our business.
Our Environment Management System ( ISO 14001 )
In order to implement environment conservation activities in an effective way, we established our Environment Management System on November 1st, 2000 based on ISO 14001 guidelines. Subsequently, we obtained ISO certification on September 10th, 2001 (Registration Number JCQA-E-0289).
Based on our environmental policy, we set objectives and goals for environment conservation every year and carry out activities that include regular training of all employees. Our activities are structured specifically with the key objectives of complying with environmental laws and regulations, promoting "3Rs (Reduce, Reuse, Recycle)", managing chemicals properly and promoting environment-friendly products.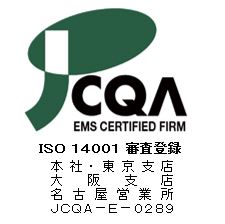 Review of Environment Conservation Activities and Efforts
The activity program is reviewed twice a year. After the reviews, enhancements are made to the program for greater effectiveness in conserving the environment. On top of that, we conduct internal environment audits that will help to improve our Environment Management System and promote sustainable development.