Introduction of Researchers at Pharmaceuticals Laboratory
Laboratory Director (Joined the company in 2021)
I rub Vaseline on my hands and feet after bathing to protect my hands and feet from redness and skin.
When I wake up in the middle of the night, itching often occurs, so I also apply Petrolatum before going to bed.
I have senile xeroderma and my tendency to blush and itch when wearing synthetic clothing has increased with aging I use Petrolatum, which is a highly safe cream, as cream with additive do not suit my skin.
I have worked for a major pharmaceutical, generic, and over-the-counter (OTC) manufacturer, as a formulation researcher for 50 years.
There are several commercially available products for which I have designed formulations and applied for several patents.
In particular, I have been researching semi-solid formulations for a long time and am very familiar with our products such as Petorolatum and white mineral oil.
Although I have passed my 70th birthday, I am still working as an engineer On my days off, I enjoy performing magic tricks at nursing homes, kindergartens, nursery schools, etc., using handmade tools and my pleaseur to see the surprised looks on their faces.
Researcher (Joined the company in 2014)
I have been involved in the testing of various pharmaceutical raw materials in accordance with the Japanese Pharmacopoeia and quasi-drug raw material standards for 6 years at our Kobe Center Manufacturing and Analysis Center.
In that time, I have had hands-on experience with various grades of white mineral oil and Petrolatum.
Currently, I am engaged in research, study, and experiments every day to accumulate knowledge and skills for the evaluation of characteristics and formulation of various pharmaceutical raw materials, especially Petrolatum.
Petrolatum is a mixture of hydrocarbons with various molecular weights and structures, and therefore exhibits a wide variety of properties.
I feel that Petrolatum is a material with unlimited potential for a wide range of applications, including hard, soft, and stretchable grades.
Our goal is to accumulate this knowledge in order to provide useful data to pharmaceutical manufacturers and ultimately to patients.
Although my knowledge of the pharmaceutical industry is still immature, I would like to deepen my own knowledge and grow through interaction with our clients.
I look forward to your guidance and encouragement.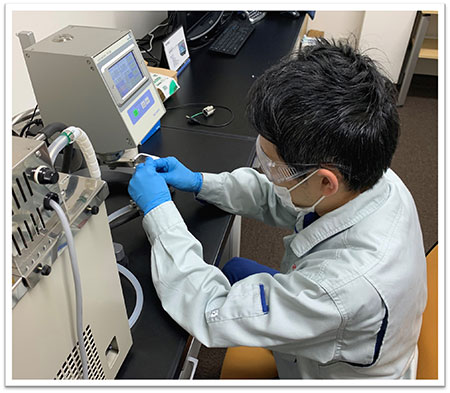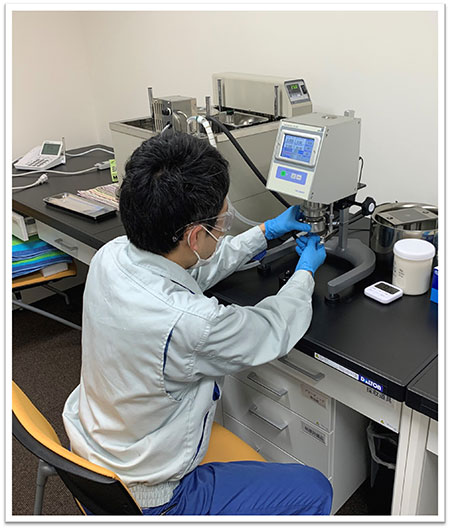 Researcher (Joined the company in 2022)
I used to research functional materials at a venture company.
After that, I worked for a cosmetics OEM developing skincare formulations.
I got interested in "raw materials" and entered the world of basic research of raw materials.
Currently, I am conducting basic research on pharmaceutical raw materials that we handle, with a focus on Petorolatum, and I am a specialist in the fields of pharmaceuticals and analysis.
I am surrounded by specialists in the pharmaceutical and analytical fields, and every day I am making discoveries and learning.
Petrolatum has been known as a base material for ointments and is a hydrocarbon mixture that we have been dealing with for a long time.
There are differences in physical properties depending on the number of carbons (molecular weight) and structural state (linear or cyclic) of the hydrocarbons contained in the product.
It is fascinating to see the differences in feeling and physical properties among the products , even if they have the same labeled name, and it also gives us a sense of the various possibilities.
I want to explore application based on my own understanding of these characteristics, disseminate a wide range of information from the basics to applications, and provide materials that meet the needs of the market.
also I would like to exchange opinions with various people, expand my horizons, and grow together with this freshly established laboratory.