Shima's Stories 2
Our repair coatings are used to maintain
and manage aging infrastructure.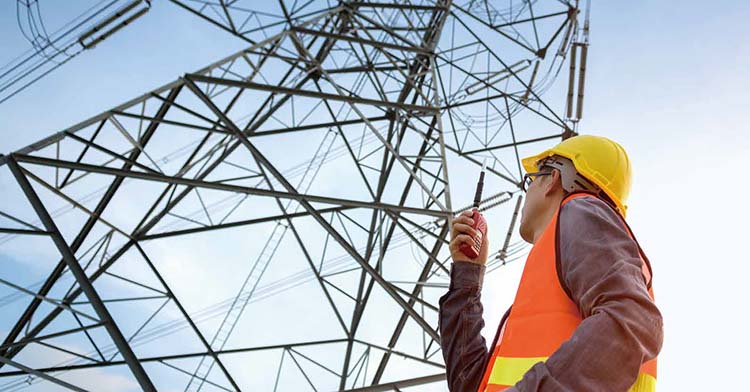 Aging power pylons have become a serious problem in Japan.
We have developed extremely safe water-based anti-corrosion paints to halt the aging process.
We will help to build a society with safer, more reliable, and longer-lasting infrastructure.
Related SDGs


Performance Materials Division
Specialty Chemicals Department
He has a curious personality and is interested in a wide variety of fields. After studying the "smell emitted by butterflies" in the Faculty of Agriculture in his university days, he joined a food processing manufacturer as a new graduate and changed jobs to Shima Trading Co. Ltd., a trading company specializing in chemicals. In this way, he has been involved in a wide range of industries in his career so far. He talks about the attractiveness of Shima Trading, saying, "We handle a wide range of products and can challenge ourselves in various fields." Currently, he participates in the development of our own original paint and is cultivating new markets.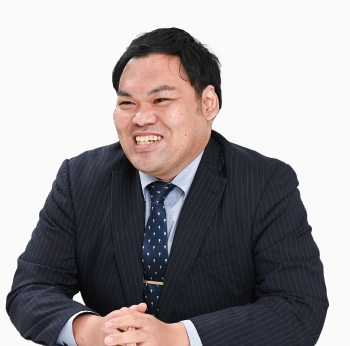 We supply safe materials designed to halt serious deterioration of infrastructure caused by aging.
In Japan, power pylons and other infrastructure built during the highgrowth era of the 1960s are now affected by increasingly serious deterioration due to aging. The optimal solution would be replacement, but that would require a vast investment of both time and money. This situation is reflected in growing demand for anti-corrosion paints that can slow or prevent rusting. However, there is concern about the safety of anti-rust paints containing thinners and other organic solvents, following a fire that occurred during infrastructure repainting work on Tokyo's Metropolitan Expressway in 2015.
Shima Trading has commenced development of water-based zinc-rich paints in partnership with several paint anufacturers. Because of my background in epoxy resin sales, I approached the project from a marketing perspective, but I also had a hands-on involvement from the development stage.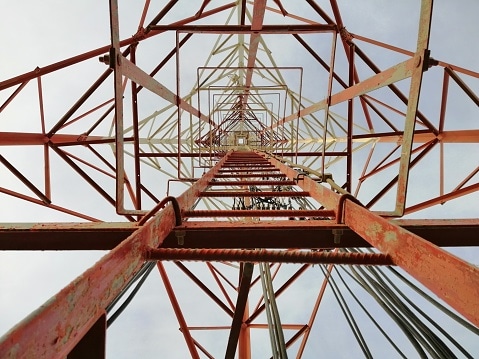 I hope that our anti-corrosion agents will eventually be used overseas as well as Japan.
The development project was more difficult than we had anticipated. We found that the strength and effectiveness of the product varied widely depending on which materials were combined and in which proportions, and even according to the way that sunlight hit the surface or the humidity of the air. In some places the product was highly effective and caused no problems, while in other locations it cracked or peeled after application. We carried out test after test in the belief that we would eventually hit the target.
This trial-and-error process resulted in the development of a water-based anti-corrosive that has been used on power pylons for several years. The product is still new, however, and we will probably discover other problems. Even so, I'm determined to overcome each of these problems until we have a material that can be used to protect infrastructure in Japan and overseas.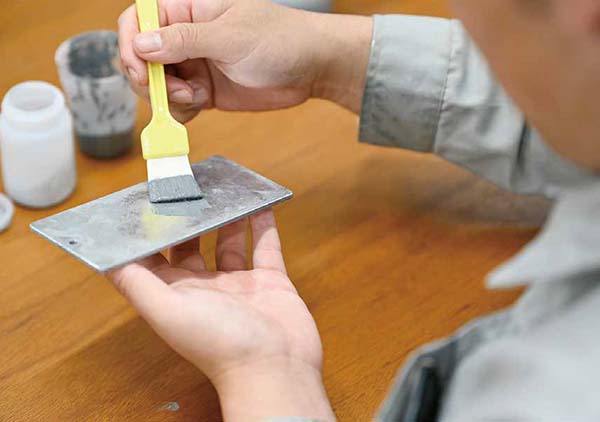 This project has been an unprecedented challenge in our evolution as a new type of trading company.
We were perhaps the first trading company to take up the challenge of developing an original material in-house and bringing it to market. I feel confident to offer the product to customers, but most of them respond cautiously because it was developed by a trading company.
For that reason, I am working to tell the world about the capabilities of everyone involved in the development process at various sites, while also building a profile for Shima Trading, such as by participating in conference presentations by supportive manufacturers. Above all, I want to change market perceptions by telling people about our efforts. My ambition is to create a new image for Shima Trading as a trading company that can bring original products to market.