Introduction of Researchers at Cosmetics Lab
Person in charge of cleaning and hair care
Do you know "Asa-Sham"?
It is a Japanese abbreviation for shampooing in asa(the morning in Japannese).
It is one of the booms that did not exist in the Japanese lifestyle until then, born in the bubble era when Japan was full of power.
The value of washing hair, which was only to wash away the dirt on the hair, has shifted to the purpose of wanting to make the hair smooth, and now it has become established as a very common thing to do in the morning.
In those days, it was Niwase who conducted research to leave the conditioner ingredients in the hair while shampooing, and developed a product with a treatment effect that enhances the finish of the hair.
Niwase worked for a major and famous cosmetics manufacturer for 30 years, and has a proven track record in formulating and developing general toiletry products based on surfactant technology, starting with solid soaps, foaming body soaps, shampoos, face washes, cleansers, etc.
Currently, he is in charge of formulating make-up remover cleansers with D5 alternative oils and cleansers for pump foamers.
As the current trend shifts from petroleum-based ingredients to plant-based ingredients, we are also focusing on proposing prescriptions that take advantage of the good parts of both.
Niwase, who has the flexibility and adaptability to respond to ever-changing situations, will develop products that are brand new today, but may become commonplace in a few decades from now.
Person in charge of skin care product
There are emollient esters that are naturally derived and have a feel similar to that of silicone, giving a dry feel to the skin.
Hara, who is in charge of developing skin care formulas in the lab, is paying attention to this excellent product .
When Hara was involved in component analysis at a pharmaceutical company famous for herbal medicines, he ventured into the cosmetics industry as he wanted to do more work in manufacturing, where he worked for over 20 years.
After being involved in the development of skin care products such as face care and hand cream at a major famous cosmetics manufacturer, he changed jobs to a Japanese high-end cosmetics manufacturer seeking more freedom in research and development.
After that, he was acquired by the world's largest cosmetics company in France, where meetings and e-mails were switched to English, which was difficult, but he responded flexibly.
Currently, in the laboratory, he uses various materials and raw materials, formulates skin care formulas that pay attention to the characteristics of the raw materials, and makes proposals such as "we can make products with this kind of texture."
In his private time, Hara is active and has many hobbies, such as going to see a castle after watching a TV drama about Japanese history, playing grass baseball with friends, watching baseball games, and playing TV games ranging from trials to RPGs. With such a wide range of knowledge and a strong inquisitive mind, we are sure that he will actively create new discoveries for skin care product development in the future.
Person in charge of cleaning and hair care
Regulations on cyclic silicone compounds (D4, D5, D6) are tightening year by year, mainly in the EU.
In Japan, we are seeing more and more "silicone-free" products in the market for rinse-off products such as shampoo.
However, D5 is still used in many leave-in products such as hair oil.

Kawano, who is in charge of hair care and cleansing system development, is currently focusing on D5 alternative oil and is currently conducting formulation research to bring it closer to the texture of conventional hair oil.
Kawano worked at a cosmetics OEM company developing hair care and skin care formulas that matched the concept of each customer.
She has experience in formulating various formulas, such as formulas that are conscious of the trends of the time, formulas with only natural ingredients, and formulas that specialize in functionality.
Currently, she makes use of that experience to make daily efforts in research and development to propose new trends and concepts to customers, as well as to solve customers' prescription issues.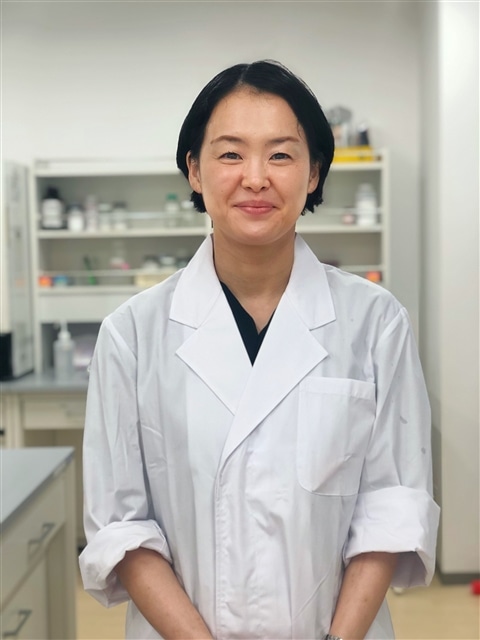 Contact:
03-3546-3115/06-6208-0212
(When contacting us, please let us know that you saw our website.)